Carrribean on a privat yacht
Description
Vacation in Paradise

As you could see the beautiful islands of the Caribbean than aboard a private yacht with superb comfort?

Sail with us along the beautiful Lesser Antilles - Antigua, Guadeloupe, Dominica. Heavenly flowers, turquoise sea, white sand beaches, waterfalls, tropical rain forests, mangrove swamps and lush flora and fauna in protected forest areas as well as friendly, cheerful and open-minded people form an incomparable panorama. Enjoy a personalized trip on a beautiful luxury yacht - 38m sun deck with a maximum of 18 guests on board.

Look forward to an authentic sailing experience. While you enjoy privacy, space and comfort.

Caribbean - turquoise lagoons, palm trees, white beaches and happy people. Enjoy sailing to the finest lobster places, you will sail to Saint Maarten or rum with you on the most beautiful race in the Caribbean - the Antigua Sailing Week.

This could be your vacation: After the lure swim in the crystal clear waters of the bay for breakfast aromatic coffee and a delicious breakfast buffet. The chef treats you like with a fried egg and fruit salad or omelet. Then it's on anchor. You now have a choice: Would you take a seat with a book in deck chair on the sun deck? Would you prefer to help in setting the sails or even take over the helm? Have you ever seen a 152 foot ship controlled? Try it out! For lunch there is a fresh salad. In the soft light of late afternoon, the sun plays with the rich turquoise of the Caribbean. Would you still make a shore excursion? One of the boats will take you ashore. Or better yet, take a swim in the beautiful sea and watch while snorkeling the amazing underwater world before you make yourself comfortable at your favorite spot on the huge deck with a book. Maybe you want to do nothing and just enjoy the hammock on the big tree or on the net on the bowsprit, the evening sun and the feeling of freedom. Then you can simply lie back and relax in the colorful sunsets. For dinner, the chef has conjured up a 3-course meal. The setting sun colors the landscape in a bewitching light. On the aft deck, the most magnificent creations by the chef will be served. Then delicious meat dishes and are sometimes served very fresh fish on board Angled. For dessert is a fresh fruit salad or delicious chocolate cake first. Later, you admire a good glass of wine and a chat and maybe even thousands of stars shooting stars in the dark night sky. And when the moon rises, the sea sparkles in the dim light. Many guests do not want to go to bed and spend the night under the sky deck.

Connoisseurs sailing in the winter in paradise. You book your dream vacation quickly.
---
Termine
Mit der Kairos in Venedig und in Istrien
Y-MMA-KAI-CADR
Code
Termin
Tage
in/Out
Ab/an
?ber*
Preis 1
Preis 2

 

12
20.03-27.03.20
8: Fr - Fr
18/10
Venedig
Lagune, Piran, Triest
1850

  

1650

  

 

13
27.03-03.04.20
8: Fr - Fr
18/10
Venedig
Lagune, Piran, Triest
1850

  

1650

  

 

14
03.04-10.04.20
8: Fr - Fr
18/10
Venedig
Lagune, Piran, Triest
2100

  

1900

  

 

15
10.04-17.04.20
8: Fr - Fr
18/10
Venedig
Lagune, Piran, Triest
2350

  

2150

  

 

16
17.04-20.04.20
4: Fr - Mo
18/10
Venedig
Lagune, Lido
1050

  

1000

  
Preise in Euro pro Person in der Doppelkabine inklusive Vollpension.
A-Kabine (Doppelkabine) Preis 1, B-Kabine (Stockbett) Preis 2.
___________________________________________________________________
Überblick
Entspannte Yacht-Segelreise mit Hotelservice
Erlebnis
Sie sind Gast und dürfen entspannen.
Wer mag, darf bei allen Manövern aktiv dabei sein. Alles kann, nichts muss.
Route richtet sich nach dem Wind.
Aktivitäten
Baden und Schwimmen vom Schiff.
Schnorcheln und Tauchen möglich.
Wakebord möglich.
Landgang.
Bei Interesse möglich: Segel trimmen, Yacht steuern.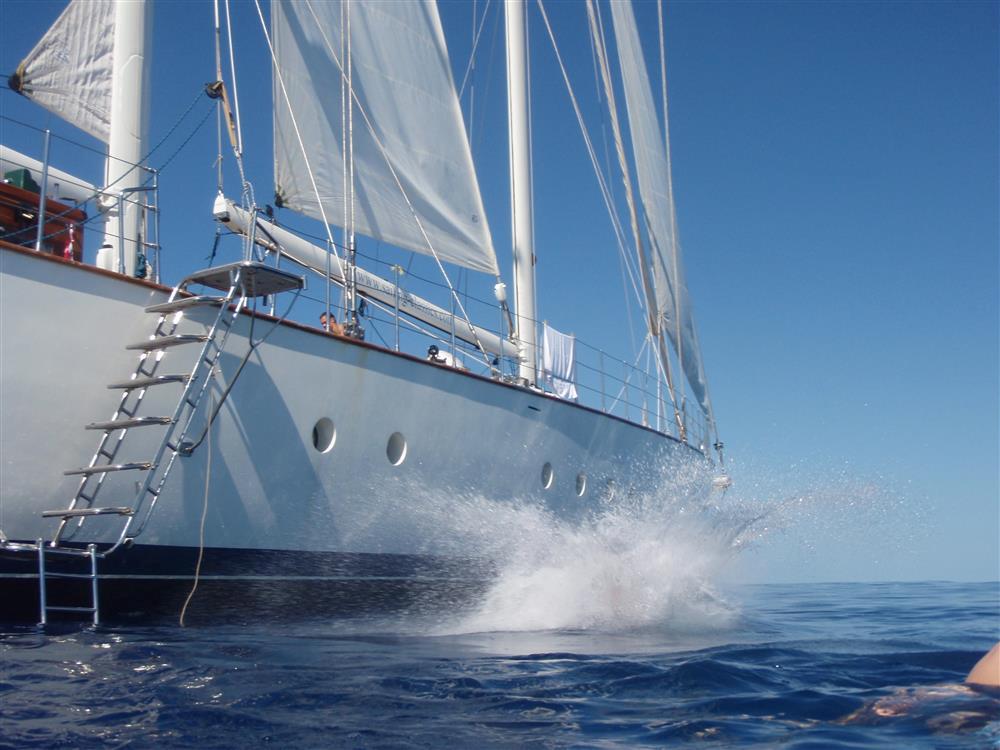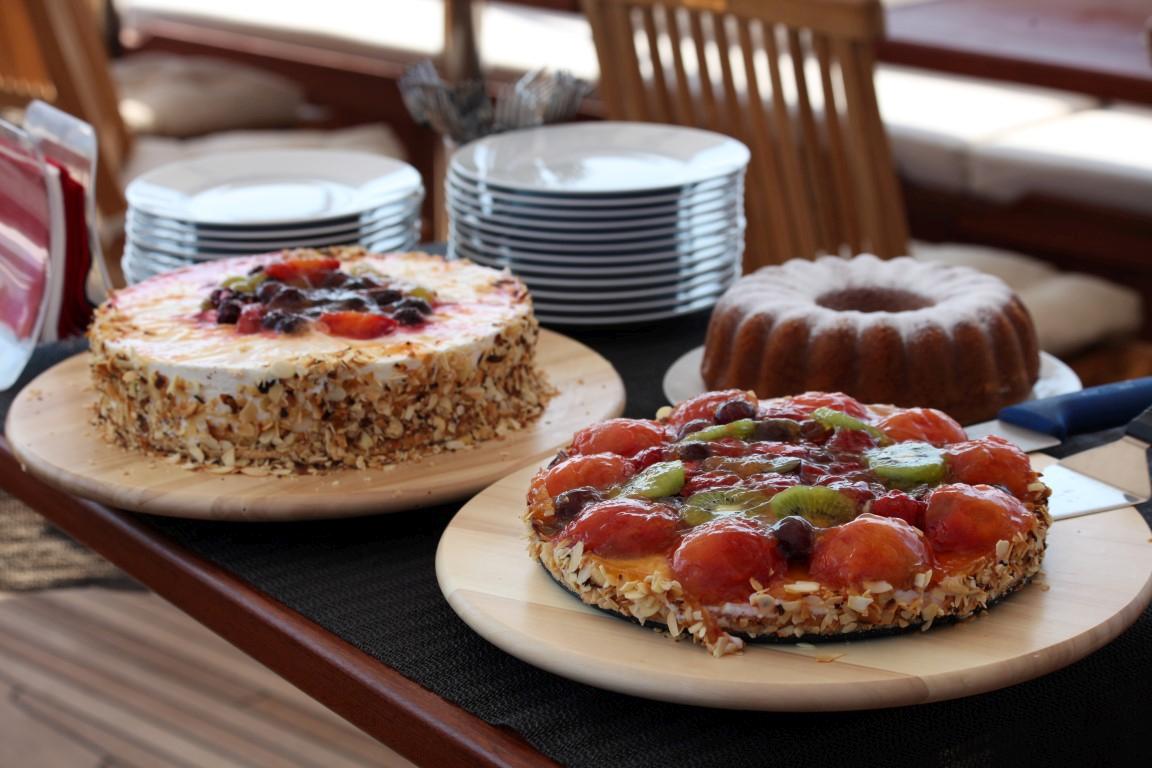 Inkludierte Leistungen
Segelreise in der gebuchten Kategorie.
Vollpension, Wasser, Kaffee, Tee. Bettzeug und Handtücher.
Schiffsnebengebühren (Hafengebühren, Treibstoff, Reinigung).
Ein Koch bereitet die Mahlzeiten an Bord aus regionalen Zutaten zu.
Die Kabinen werden regelmäßig gereinigt.
Informationen
Vor Ort zu zahlen: Getränke, Trinkgelder, Wassersport nach Nutzung, Landausflüge.
Dinner an einem Abend pro Woche an Land auf eigene Rechnung.
Kleidungsstil: leger und entspannt.
Segelkenntnisse: nicht erforderlich.
Schiff
Segelschiff Kairós
Flair: Entspannt und erholsam

Länge 38,00 m
Baujahr 2009

Gäste: Max 18
Bordsprache: Deutsch, Englisch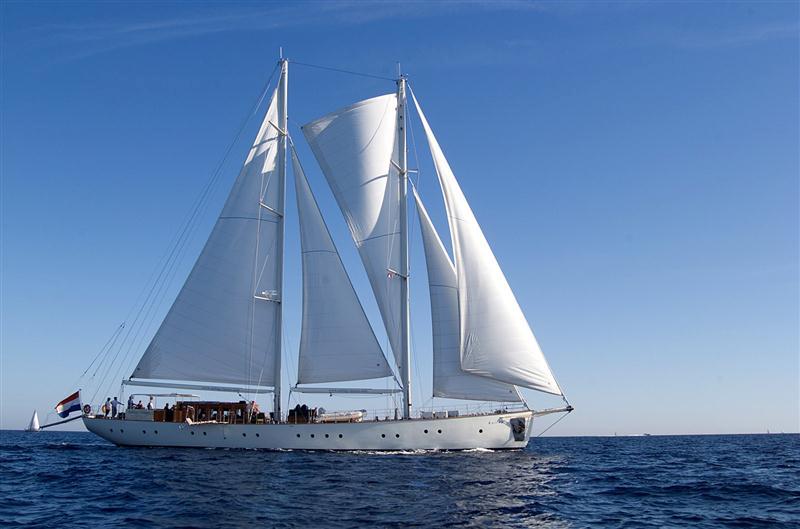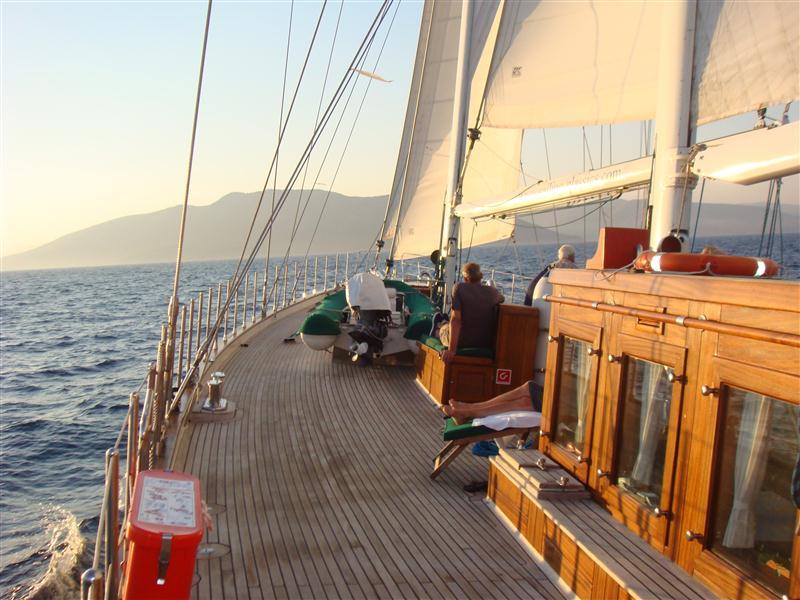 Genießen Sie eine erholsame Segelreise und lassen Sie sich von Profis verwöhnen. Eine Crew aus Kapitän, Ingenieur, Bootsmann, Koch und ein bis zwei Servicekräften sorgt für das Wohl von bis zu 18 Gästen an Bord und erfüllt gern Ihre Wünsche. Wer mag, darf sich beim Setzen und Trimmen der großen Segel, sowie beim Navigieren und Steuern des Schiffes beteiligen. Alles kann, nichts muss.
Bei viel Raum findet jeder seinen Lieblingsplatz: Das riesige Teakdeck mit Sonnenliegen und Deckchairs bietet viel Platz. Möchten Sie lieber auf den bequemen Sitzbänken am Achterdeck plaudern, sich zum Lesen oder Ruhen mittschiffs einrichten oder lieber am Bug ganz für sich nur das Meer rauschen hören?

Baden direkt vom Schiff. Wer möchte, darf nachts an Deck schlafen. Smoking und Abendkleid brauchen Sie nicht. Die Mahlzeiten werden auf dem Achterdeck serviert. Alleinreisende finden schnell Anschluss in der Tischrunde.


Kabinen
Klimatisierte Doppelkabinen mit privater Dusche
Jede Kabine bietet genügend Raum und Privatshäre. Alle Kabinen sind klimatisiert und individuell regelbar.
6 A-Kabinen und 3 B-Kabinen.


A-Kabine
Genießen Sie den Komfort der A-Kabinen "Endeavour", "Mariquita", "Eleonora", "Lethantia", "Altair" und "Orion" auf geräumigen 11 m² mit Doppelbett. Im Bad gibt es ein WC sowie eine abgetrennte Duschkabine mit den Maßen 90 x 90 cm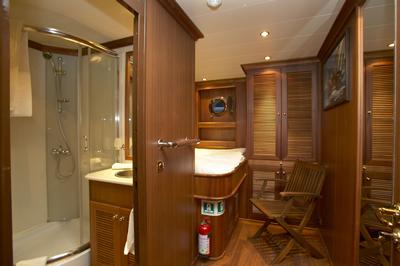 B-Kabine
Die beiden 8m² großen Pullmann-Kabinen "Aun" und "Sposa" bieten ein Stockbett sowie eine private Nasszelle mit Yachtdusche. Hier fühlen sich Einzelreisende oder Segelfreunde sowie mitreisende Jugendliche wohl. Der Zugang zu den beiden Pullmann-Kabinen erfolgt über eine Leiter ins Vorschiff.

Die B-Kabine "Anitra" liegt im Achterschiff und hat ein Doppelbett sowie eine Sanitärzelle mit Yachtdusche.
---