Club Swan 36
10,6 M
Racing
6 / 84
1 - 2
Event-Service
Hotel
Racing yacht Club Swan 36
Figures
LOA 11 meter
LWL 10.59 meter
Beam 3.60 meter
Draft 2.75 meter
Internal Compustion Engine by Nanni Diesel
Electrical Motor by Torquedo
Ballast 1.4 tons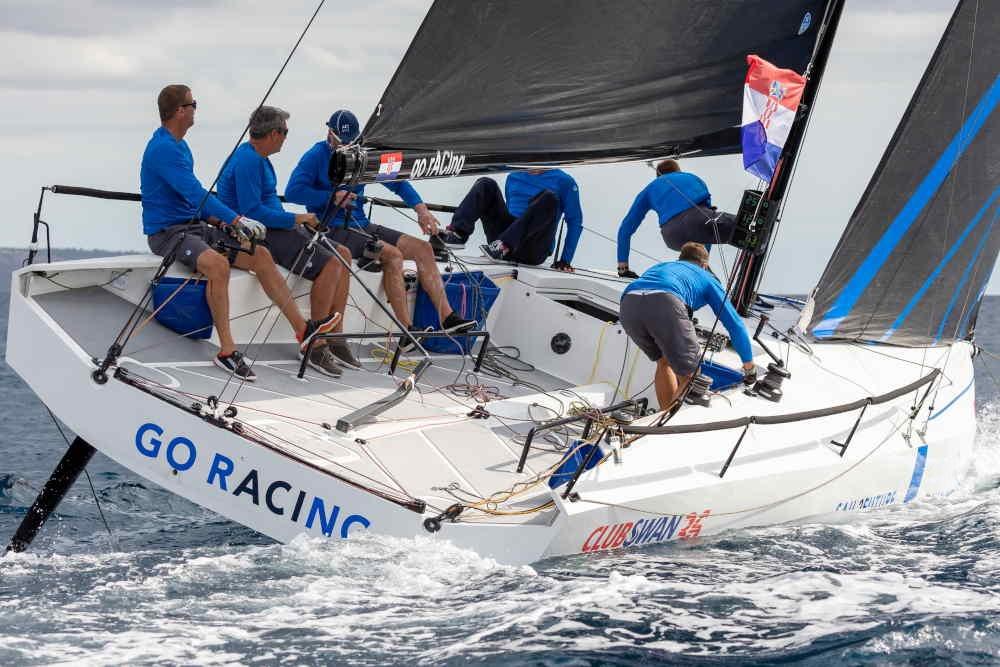 Corporate Events on the Club Swan 36
A once in a lifetime opportunity.

The luxury boat manufacturor NAUTORS SWAN constructed the Club Swan 36 racing yachts, combining the latest innovations with its minimal design. The racing yacht can reach a speed up to 20 knots combining its one design with the possibility of participating in an extraordinary tight competition. Be one of the few people to take part in a race among the worlds largest Club Swan 36 fleet in Croatia. With their powerful material the 3Di North Sails are known for the durability and strength, which give the Club Swan 36 an even more sturdy sailing adventure.

Sail where professional skippers have been sailing, such as Sir Russel Coutts, Dean Barker, Dennis Conner, Paolo Cian and Peter Holmberg.
Enjoy the mediterranean sun while sailing along the croatian costline, providing you with different wind patterns perfect for sailing. In a quest for victory you can challange your sailing skills in the untouched nature of Croatia. Explore the water conditions inbetween the islands, channels, capes and bays.

The Team makes all the difference on a sailing yacht. The Club Swan 36 Team have sailed in the Olympic Games, Americas Cup, match racing, big boat Grand Prix/ Series & Maxi. With some crew members having gained experience from over 30 years they love sharing their enthusiasm, passion, knowledge and practical knowledge with you on bord the Club Swan 36.

Segeln in der Adria
Segeln Sie dort, wo auch Profis gesegelt sind. Sir Russel Coutts, Dean Barker, Dennis Conner, Paolo Cian und Peter Holmberg waren schon da.

Das Segelrevier in Kroatien erlaubt es Ihnen in unberührter Natur zu segeln. Die Adria bietet eine exzellente Küstengegend, wo Sie aufgrund geografischer Gegebenheiten, in verschiedensten Situationen Ihre Segelmanöver ausprobieren können. Bei Windverhältnissen zwischen Inseln, in Buchten, Kanälen oder bei Kap-Effekten können Segler die sich immer wieder verändernden Segelverhältnisse austesten und das Streben nach Bestleistung herausfordern.


Page 1 of 1
Items 1 - 2 of 2
---