Whale Watching in the Strait of Gibraltar
Preise in Euro pro Person in der Doppelkabine inklusive Vollpension.
Description
Sailing with whales and dolphins on a private yacht in the Strait of Gibraltar

In the strait that connects the Mediterranean and the Atlantic Ocean, you expect a very special experience in a unique setting. The harmonious unity of the fascinating marine life, the eternal play of the forces of wind and sea and the stunning coastal landscape between Europe and Africa will inspire you.
Experience such as whales and dolphins playing right next to the ship. Here, the white boat glides quietly under sail away. Not infrequently, about twenty families of pilot whales and their calves play simultaneously close to two hours next to our boat. You can feel the high up to 6 meters blown onto the deck. Impressive is the body contact that keep the animals in the water. It seems as if you were constantly cuddling together. If we are very lucky w meet a huge sperm wale. On our whale watching, we make sure that we do not interfere with the giants of the sea, but waiting in the vicinity of the families come to them naturally to our ship.
Our tour guide, the marine biologist Jörn Selling explored together with Katharina Heier in the Foundation firmm for 12 years, the lives of whales and the influence of the heavy ship traffic. He consecrates us to the fascinating world of whales and dolphins.
The shore excursions between Europe and Africa are fascinating. Gibraltar, with its contradictions: Enjoy a stroll through the impressive old town of Cadiz, a trip to Jerez, the home of sherry or a visit to the endless beaches of Tarifa. In Morocco, you will experience a trip to the Orient in the old Teotuan artisan quarters.
Feel the front of the rock of Gibraltar to the navigators of antiquity, the world ended here mostly on the pillars of Hercules, Gibraltar where the north and south of Mount Sinai (Jebel Musa Sidi) the boundary between heaven and earth marked.
If you can rise above the dull shining sea, the sun between the Pillars of Hercules, you increase the aroma of fresh coffee in the nose and watch the game next to the boat a whale family, you will wish time would stand still.
* Details on services for families can be found under FAQ.
---
Segelschiff Kairós
Flair: Entspannt und erholsam

Länge 38,00 m
Baujahr 2009

Gäste: Max 18
Bordsprache: Deutsch, Englisch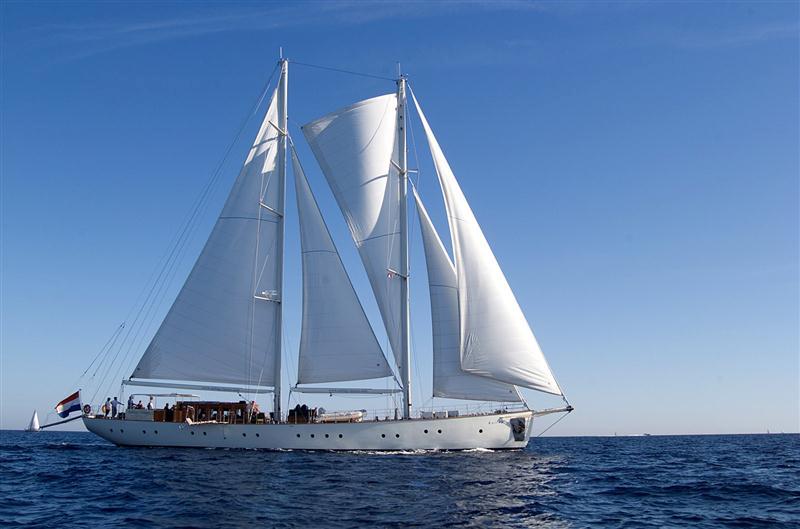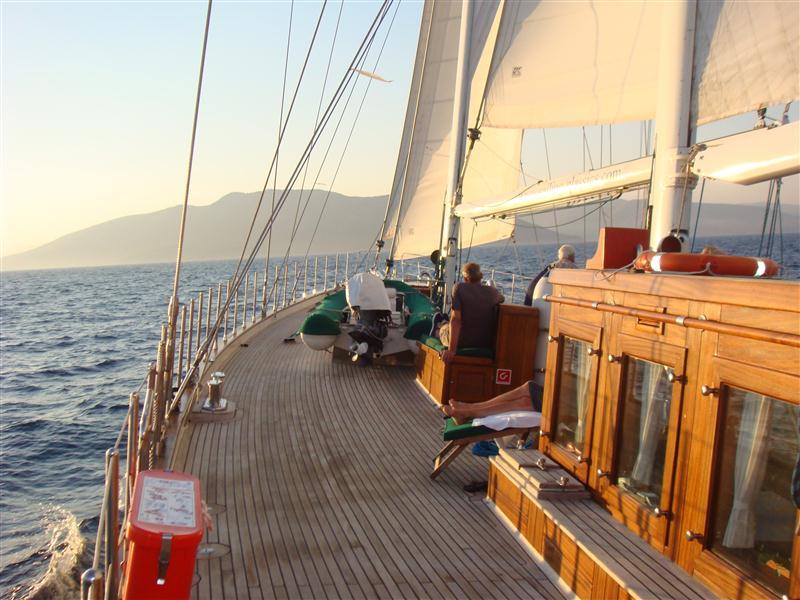 Genießen Sie eine erholsame Segelreise und lassen Sie sich von Profis verwöhnen. Eine Crew aus Kapitän, Ingenieur, Bootsmann, Koch und ein bis zwei Servicekräften sorgt für das Wohl von bis zu 18 Gästen an Bord und erfüllt gern Ihre Wünsche. Wer mag, darf sich beim Setzen und Trimmen der großen Segel, sowie beim Navigieren und Steuern des Schiffes beteiligen. Alles kann, nichts muss.
Bei viel Raum findet jeder seinen Lieblingsplatz: Das riesige Teakdeck mit Sonnenliegen und Deckchairs bietet viel Platz. Möchten Sie lieber auf den bequemen Sitzbänken am Achterdeck plaudern, sich zum Lesen oder Ruhen mittschiffs einrichten oder lieber am Bug ganz für sich nur das Meer rauschen hören?

Baden direkt vom Schiff. Wer möchte, darf nachts an Deck schlafen. Smoking und Abendkleid brauchen Sie nicht. Die Mahlzeiten werden auf dem Achterdeck serviert. Alleinreisende finden schnell Anschluss in der Tischrunde.


Klimatisierte Doppelkabinen mit privater Dusche
Jede Kabine bietet genügend Raum und Privatshäre. Alle Kabinen sind klimatisiert und individuell regelbar.
6 A-Kabinen und 3 B-Kabinen.


A-Kabine
Genießen Sie den Komfort der A-Kabinen "Endeavour", "Mariquita", "Eleonora", "Lethantia", "Altair" und "Orion" auf geräumigen 11 m² mit Doppelbett. Im Bad gibt es ein WC sowie eine abgetrennte Duschkabine mit den Maßen 90 x 90 cm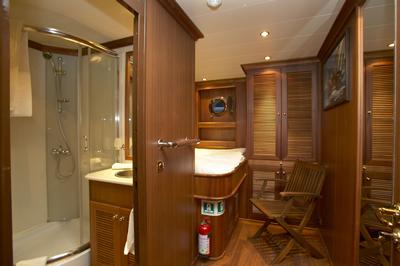 B-Kabine
Die beiden 8m² großen Pullmann-Kabinen "Aun" und "Sposa" bieten ein Stockbett sowie eine private Nasszelle mit Yachtdusche. Hier fühlen sich Einzelreisende oder Segelfreunde sowie mitreisende Jugendliche wohl. Der Zugang zu den beiden Pullmann-Kabinen erfolgt über eine Leiter ins Vorschiff.

Die B-Kabine "Anitra" liegt im Achterschiff und hat ein Doppelbett sowie eine Sanitärzelle mit Yachtdusche.
Entspannte Yacht-Segelreise mit Hotelservice
Erlebnis
Sie sind Gast und dürfen entspannen.
Wer mag, darf bei allen Manövern aktiv dabei sein. Alles kann, nichts muss.
Route richtet sich nach dem Wind.
Aktivitäten
Baden und Schwimmen vom Schiff.
Schnorcheln und Tauchen möglich.
Wakebord möglich.
Landgang.
Bei Interesse möglich: Segel trimmen, Yacht steuern.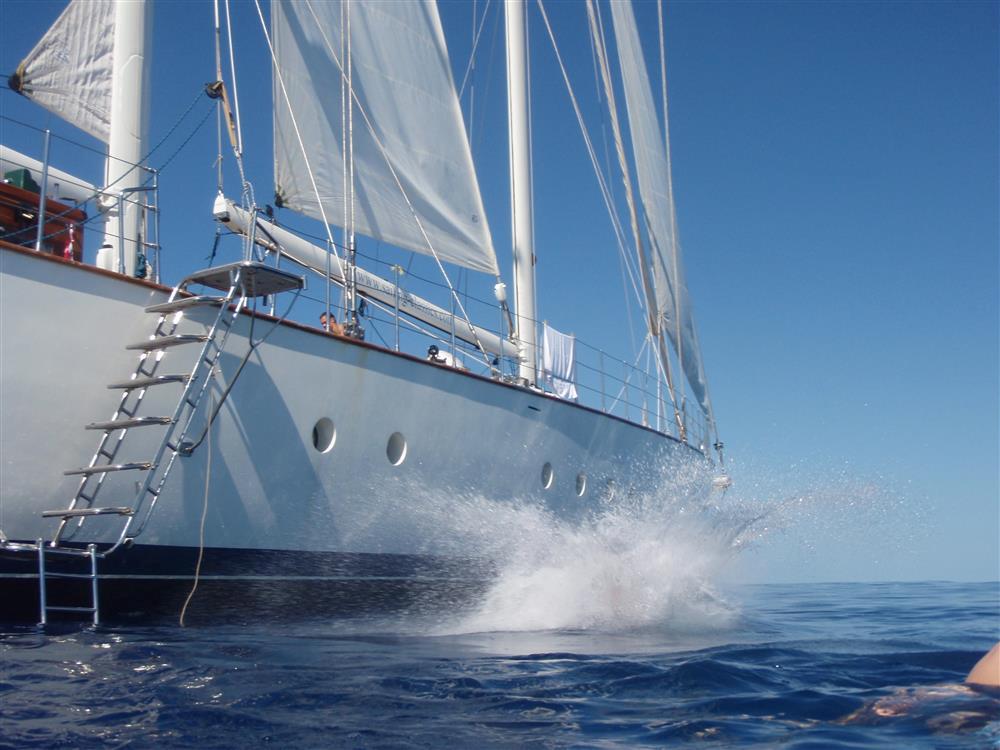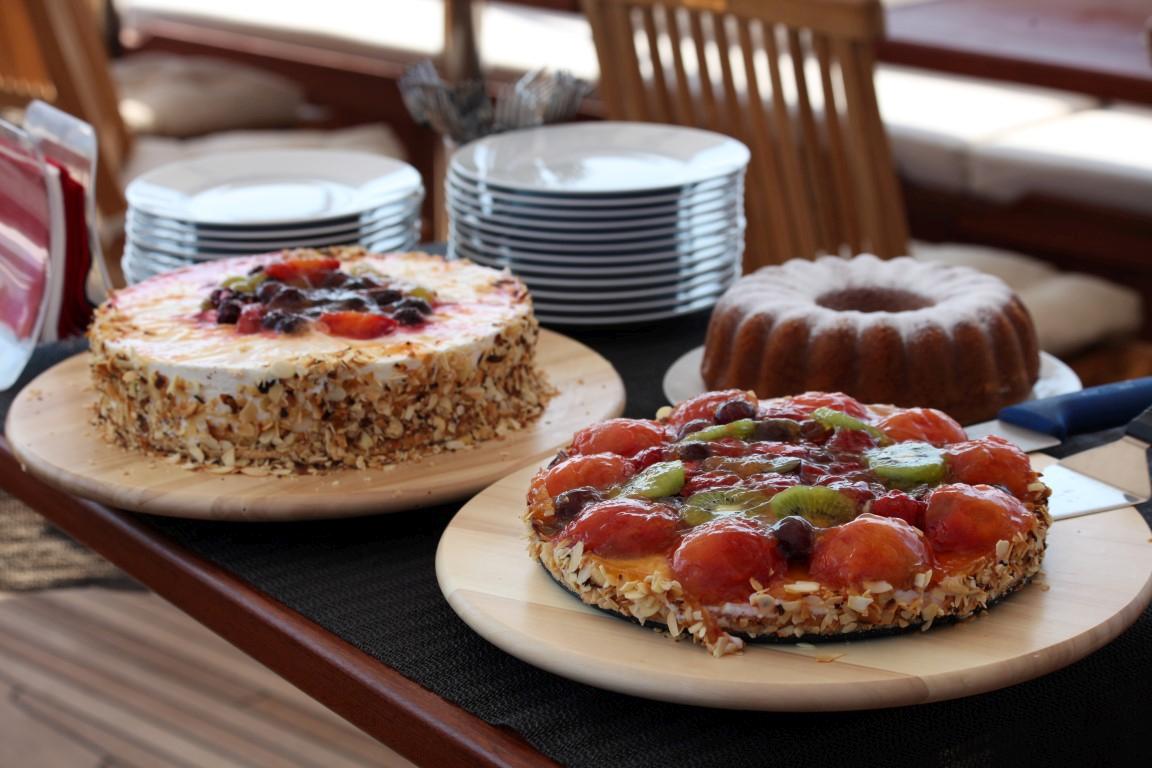 Inkludierte Leistungen
Segelreise in der gebuchten Kategorie.
Vollpension, Wasser, Kaffee, Tee. Bettzeug und Handtücher.
Schiffsnebengebühren (Hafengebühren, Treibstoff, Reinigung).
Ein Koch bereitet die Mahlzeiten an Bord aus regionalen Zutaten zu.
Die Kabinen werden regelmäßig gereinigt.
Informationen
Vor Ort zu zahlen: Getränke, Trinkgelder, Wassersport nach Nutzung, Landausflüge.
Dinner an einem Abend pro Woche an Land auf eigene Rechnung.
Kleidungsstil: leger und entspannt.
Segelkenntnisse: nicht erforderlich.
---