Special Sailing Cruises
Description
Select any special requests for our special cruises.

The program is similar to other sailing from Rostock. The route depends on the weather and the special needs of the crew.

On the Family Cruise children receive special discounts.
The Snuffeling Cruise is a favorable alternative to the weekly trips.
Our Ladies Cruise is for ladies crews only.

As sailors, you are part of the crew and take active part in the life on board. Of course everyone is asking sailors at the helm. Interested sailors can also develop navigational skills. Of cross bearing on dealing with radar, GPS, up to celestial navigation, anything is possible.

The route will be decided locally, depending on wind and weather and the wishes of the crew. Conceivable is a trip to Denmark, in the beautiful harbors in the western Baltic Sea as Wismar and Travemünde. If time allows we can also sail to Rügen and Copenhagen.

Enjoy pure relaxation on the beach with the sounds of sea and wind.

This could be your trip: First, we sail into the enchanting seaside resort Kühlungsborn. Or if the wind allows it, and the sailors want, we set sail for Denmark and spend a cozy evening at the yacht harbor. After the night in your own sleeping bag carries us back to the wind to Warnemünde. The way enough time to let your mind wander is to indulge in the impressions of nature and to enjoy the unique silhouette of the seaside resorts Kühlungsborn, Heiligendamm and Rostock. Of course, the entire crew while sailing must all touch with and are also at the helm. In the evening the ship, depending on the weather and the crew in the choice of romantic ports Kühlungsborn, Wismar and Nysted. Take a stroll in the evening through the maritime atmosphere of the beautiful seaside resorts or spend the evening at Klönsnack on board.

If you relaxed and refreshed with the impressions of nature back home, you'll be looking forward to your next sailing trip.
---
Class 40
Flair: Sehr sportlich - Eine Legende, designed für die Vendee Globe.
Sehr schnell und robust, gebaut um einhand nonstop im die Welt zu segeln.

Länge 11,90 m
Segelfläche upwind 240 qm.
Speed mit Gästen bis 19 Knoten
Baujahr 2011

Kabinen: 3 (1 Kabine im Vorschiff, 2 Kabinen im Achterschiff)
1 Waschraum.

Gäste: 4

Sportlich spartanische Einrichtung. Geschirr und Besteck sind an Bord nicht vorhanden.
Im Salon Tisch und 2 Bänke.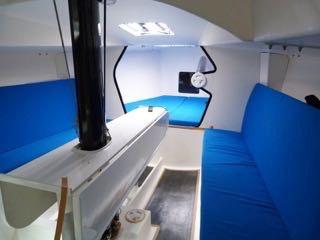 Schnell und seetüchtig für Racing auf den Weltmeeren
Pogo-Werftchef Christian Bouroulle und der Vendée-Globe-Skipper Patrice Carpentier entwickelten eine Yacht, die Seetüchtigkeit mit Robustheit, Schnelligkeit und genial einfachem Handling verbindet. Mehr als 20 Jahre sind seit dem Start zum Fastnet-Race 2005 vergangen und längst ist die Class 40 eine legendäre Einheitsklasse von Trans-Ocean-Races geworden.

Erleben Sie pures Segelvergnügen.
Überblick
Sie segeln aktiv auf einer Rennyacht mit
Sie sind aktiver Teil der Crew. Es wird davon ausgegangen, dass Sie bei den Manövern aktiv dabei sind. Sie segeln auf einer Rennyacht, das Flair an Bord ist sportlich. Die Route ist windabhängig.
Inkludierte Leistungen:
Segeltörn mit Übernachtung
Vor Ort zu zahlen:
Bordkasse für Hafengebühren, Treibstoff, Proviant, Getränke.
Informationen:
Kleidungsstil: Wetterfeste Segelkleidung.
Segelerfahrungen auf dem Meer im Vorfeld werden bei Mehrtagestörns empfohlen.
Mitbringen: Bei Mehrtagestörns Schlafsack bzw. Bettzeug.
Sie sollten gesund sein und über eine gute Konstitution verfügen.
---