Carrribean on a privat yacht
Description
Vacation in Paradise

Would you like to see the beautiful islands of the Caribbean than you should definity board a private yacht with superb comfort.

Sail with us along the beautiful Lesser Antilles - Antigua, Guadeloupe, Dominica. Heavenly flowers, turquoise sea, white sand beaches, waterfalls, tropical rain forests, mangrove swamps and lush flora & fauna in protected forest areas await you in the Caribbean. A long the way meet friendly, cheerful and open-minded people. Enjoy a personalized trip on a beautiful luxury yacht - 38m sun deck with a maximum of 18 guests on board.

Look forward to an authentic sailing experience. While you enjoy privacy, space and comfort.

Caribbean - turquoise lagoons, palm trees, white beaches and happy people. Enjoy sailing to the finest lobster places, you will sail to Saint Maarten or take part in the most beautiful race in the Caribbean - the Antigua Sailing Week.

This could be your vacation: After the lure swim in the crystal clear waters of the bay. For breakfast enjoy an aromatic coffee and a delicious breakfast buffet. The chef  will treat you with a fried egg and fruit salad or omelet. Then we will set the anchor. You now have a choice: Would you like to take a seat with your book on the sun deck? Or would you prefer to help in setting the sails or even take over the helm? Have you ever seen how a 152 foot ship is navigated? Try it out! For lunch there is a fresh salad. In the soft light of ´the late afternoon you will see the sun sparkling on the rich turquoise coloured water. If you would like you can explore the islands and participate in an excursion . One of the boats will take you ashore. Or better yet, take a swim in the beautiful sea and watch while snorkeling the amazing underwater world before you make yourself comfortable at your favorite spot on the huge deck with a book. Maybe you want to do nothing and just enjoy the hammock on the big tree or on the net on the bowsprit, the evening sun and the feeling of freedom. Then you can simply lie back and relax in the colorful sunsets. For dinner, the chef has conjured up a 3-course meal. The setting sun colors the landscape in a bewitching light. On the aft deck, the most magnificent creations by the chef will be served. Then delicious meat dishes and are sometimes served very fresh fish on board Angled. For dessert is a fresh fruit salad or delicious chocolate cake first. Later, you admire a good glass of wine and a chat and maybe even thousands of stars shooting stars in the dark night sky. And when the moon rises, the sea sparkles in the dim light. Many guests do not want to go to bed and spend the night under the sky deck.

Connoisseurs sailing in the winter in paradise. You book your dream vacation quickly.
---
Dates
Luxury yachtcruis with the Stad Amsterdam to the Caribbeans
Available as of 2021 again
Preise in Euro pro Person inklusive Vollpension mit frischen Früchten, Wasser, Kaffee, Tee und Säften zu den Mahlzeiten.
Kabinenkategorie DK: 2er Kabine mit 2 Einzelbetten.
Optionen:

Als Einzelkabine zum Aufpreis von 50% pro Person.

2er Kabine mit Doppelbett Aufpreis von 250 Euro pro Kabine.
___________________________________________________________________
Overview
Relaxed yacht sailing cruise with hotel service
Experience
You are the guest and you may relax.
For the ones who want, may be part of the maneuver and be part of the watch crew. Everything is possible, nothing is neccesary.
Route will be sailed according to wind and weather conditions.
activities
Swim from the ship.
Snorkling and diving.
Watersports.
BBQ on the beach.
Field trips .
If intrested: trim sails, steer the ship.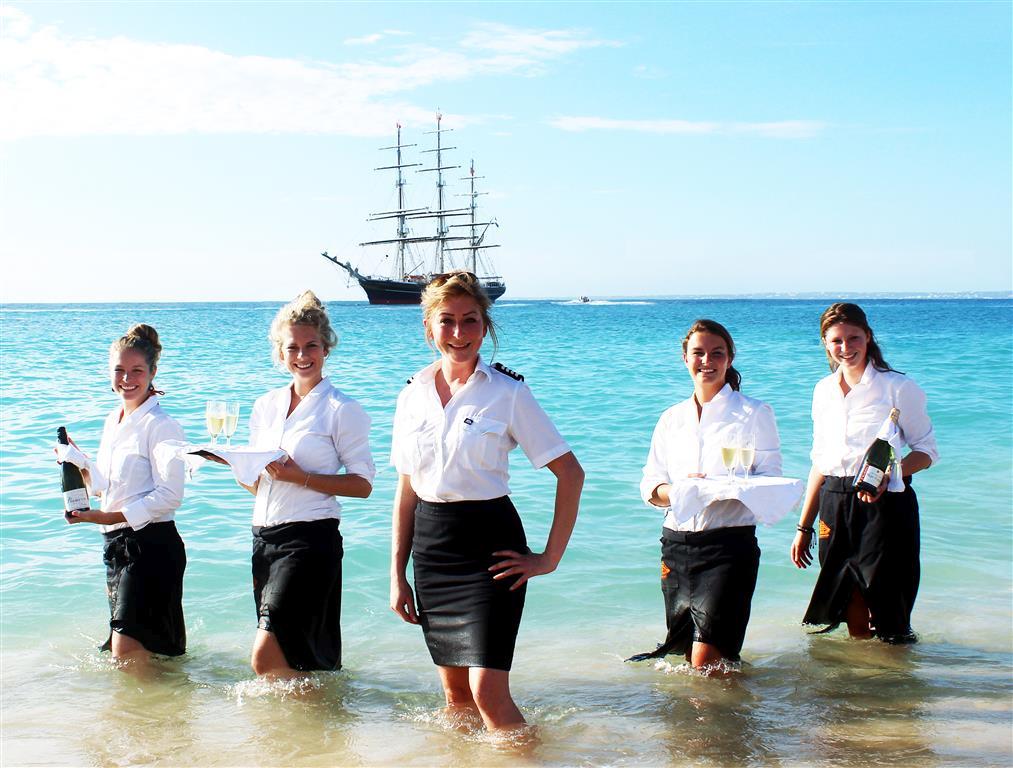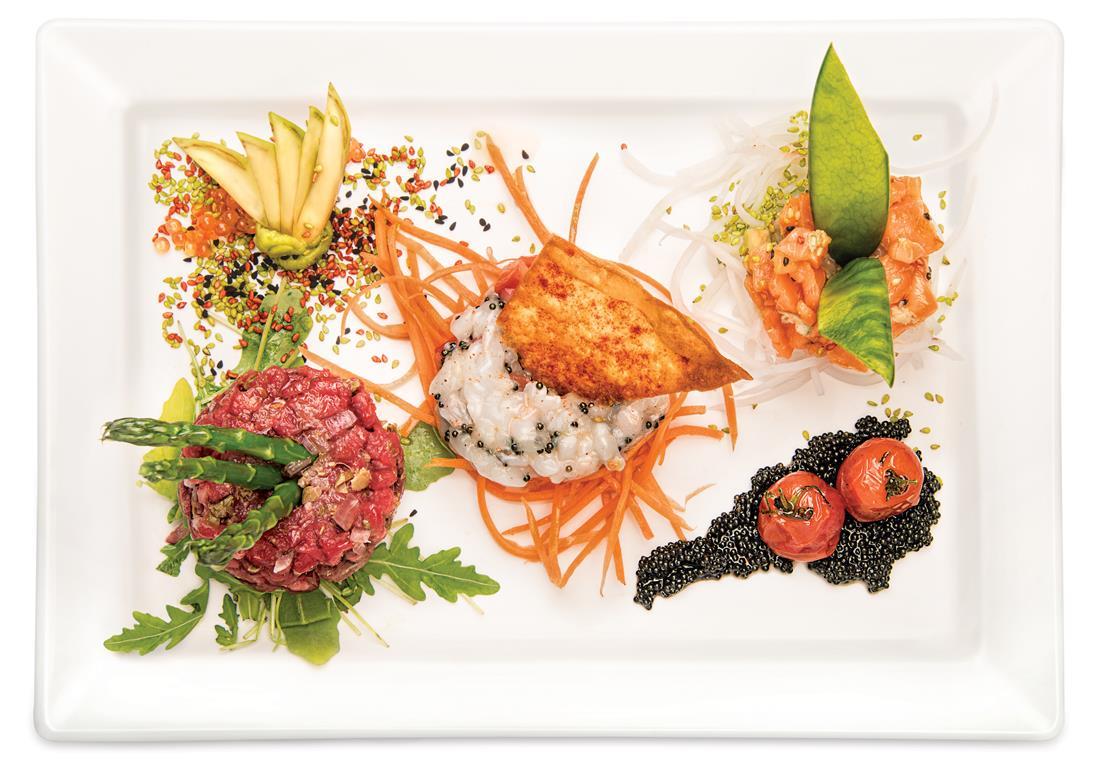 Included Service
Sailing cruise in the booked category
Full board with fresh fruits, water,coffee, tea. Bedding and towels
Additional ship costs (port fees, fuel, cleaning)
Nautical miles confirmation
An excellent cook will prepare the dishes on board with local ingredients
Cabins are cleaned regularly
Information
To be paid on board: Drinks, tips, watersports, field trips.
Dresscode: relaxed and casual.
Sailing knowledge: not necessary.
Cabins
Flexible spacious double cabins, with a maritime flair
14 cabins with 2 single beds and an ensuite privat bathroom. During the day you will be able to transform the bed into a couch. If necessary a bunk bed can be placed ontop of each bed.
In some cabins it is possible to have placed either a double bed or two single beds.
Region
Segeln in den Grenadinen
Südlich von Martinique und St. Lucia zieht sich das beliebte Seglerparadies aus mehr als 30 teils unbewohnten Inseln bis vor Grenada. Hier herrscht die gute Laune, Musik und Lachen der Westindies.
Während wir im französischen Überseedepartment auf Martinique und auf der britisch und amerikanisch geprägten Insel St. Lucia neben karibischen Stränden und tropischem Regenwald städtische und touristische Regionen finden, verzaubern die südlicheren kleinen Inseln der Grenadinen mit weißen palmengesäumten Traumstränden und dem Flair der Westindies.
Die Privatinsel Mustique gilt als Insel des Jetset während man auf Bequia einfach das Leben genießt. Die Tobago Cays sind berühmt für ihre bunte Unterwasserwelt. Auf Grenada duftet es nach Vanille und Zimt.
Mehr über das
Segelrevier Grenadinen ....
---