Sailing a day trip during the Hanse Sail on a 3-masted schooner
Description
Sail with us at sea during the Hansesail on a piece of jewelry.

Every year in August one of the most enthusiastic meeting of traditional ships fascinates hundreds of thousands of visitors in Rostock. Dive for a few hours in the atmosphere of the ancient seafaring. The oldest ships on the Hanse Sail are more than 100 years old.

On the popular day trips you can live to be on board here. Be inspired by the smell of the wood planks to dream. Say hello from the largest 3-masted gaff schooner to the brand new Alexander von Humboldt II and the beautiful white four-masted barque Star Flyer. Our beautiful Dutch girl is waiting for you, drawing on each of its 70m length is a real gem.

Because sea air makes you hungry, the ship owner will entertain you with a delicious homemade snack. Enjoy a wonderful day at sea on a beautiful sailing ship.
---
Großseglerreise als Trainee.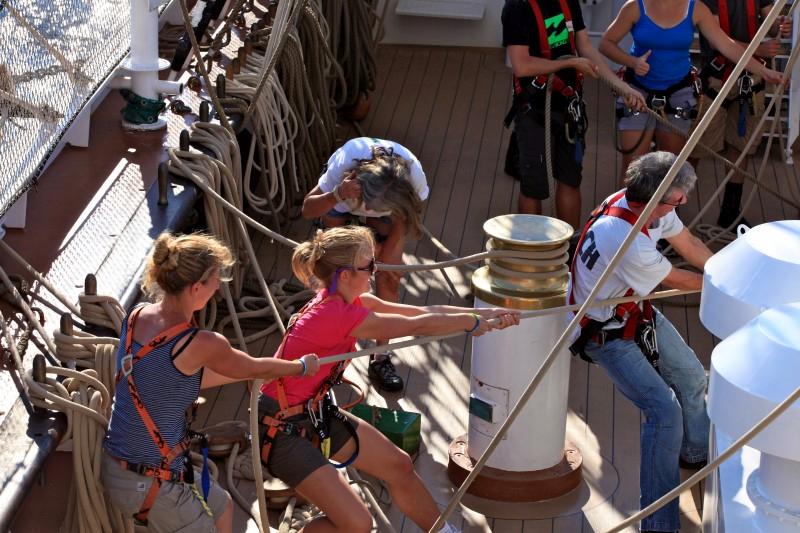 Flair: Rustikal
Sie sind Teil der Crew im Wachsystem. Es wird davon ausgegangen, dass Sie bei den Manövern aktiv dabei sind. Sie segeln auf einem Schulschiff, das Flair an Bord ist rustikal. Die Route ist windabhängig.
Inkludierte Leistungen:
Segelreise mit Übernachtung in gemischten Mehrbett-Kammern
Vollpension, Wasser, Kaffee, Tee an Bord. Bettzeug und Handtücher
Schiffsnebengebühren (Hafengebühren, Treibstoff, Reinigung)
Vor Ort zu zahlen:
Getränke, Ausgaben an Land.
Informationen:
Kleidungsstil: sportliche Segelkleidung. 
Vorkenntnisse nicht erforderlich.
Sie sollten gesund sein und über eine gute Konstitution verfügen.
---